Angkor/White Scroll Rim Ceramic Fountain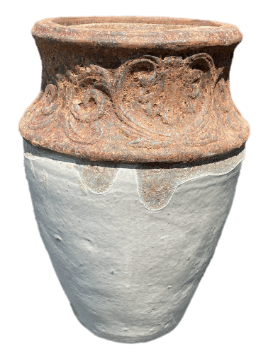 Angkor/White Scroll Rim Ceramic Fountain
Regular price
$42900
$429.00
The Scroll Rim Ceramic Fountain is a self-contained water feature that will add elegance to any space, indoors or out. The top of the pot collects all the water, so neither a fountain kit nor a reservoir is needed. Attach a pump (sold separately) to the included tubing and plug it into an outlet. The rough angkor rim and glossy white glaze make this an elegant solution for drowning out noise pollution. Each fountain is handmade, resulting in unique details.
Dimensions: 20" x 20" x 29"
Weight: 105 lbs
Product Details
Hand-made in Vietnam.
For indoor and outdoor use.
Tested for durability, quality, and consistency.
Premium glazed ceramic high fired in a wood burnt kiln.
Weather-resistant and long-lasting. This fountain is resistant to color fading and cracking, lasting for decades. 
Make sure to drain out the water from the reservoir to avoid freeze damage
Product Care
For indoor or outdoor use.
Natural evaporation will occur over time.
To easily keep the water clean, add chlorine tabs to the fountain.
Windy conditions can reduce your fountain's reservoir of water.
Apply a light coat of muriatic acid to clean hard watermarks over time.
Place a plant saucer under the fountain to avoid damage to flooring indoors.
To extend durability in extremely cold climates, drain fountain during freezing conditions.
When in use, keep the fountain filled with water to prolong the life of your pump and prevent damage to the fountain.
Nationwide Shipping Available